If you're already using Dropmark, you've probably noticed that each collection you create lives within your own unique subdomain (ie. you.dropmark.com).
Your collection is also free from logos, ads, and social media, so you can feel confident that what you create in Dropmark is yours.
Make a collection public, and you instantly have a simple microsite that you can share (with your own personalized subdomain). Share your work in a professional way, whether it's with your team, your clients, or even your mom.
Gather some videos and create a quick demo reel.  Drop in a few images (or websites) along with an external contact link to create a dead-simple design portfolio.  Curate a collection of interesting websites without the hassle of setting up a blog. Anything you want.
Want to take it a step further? Register your own domain name and forward it to your public Dropmark URL. Every domain registrar is a bit different, so check with them for instructions on setting this up.
Introducing dropmark.tv
Powered by a simple Dropmark collection,  Dropmark.tv is a quick microsite we put together to showcase all of our helpful videos.
Check it out and learn something new about Dropmark: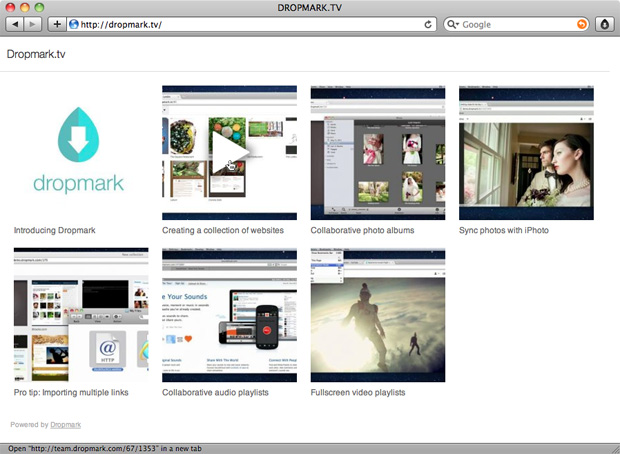 Thanks to Dropmark's  auto-advancing video (and  audio) playback, you can even watch the whole series in one go.
Subscribe to the built-in RSS feed to keep up to date with the latest.