You know that feeling where you step out into the world with a fresh new hairdo, ready to take on anything? That's us today.
After months of designing, iterating, and beta testing, we're excited to officially welcome you to the brand new Dropmark.
We first launched in 2011 with a simple mission: organizing and sharing ideas should be easier. As a creative studio, we envisioned Dropmark as a simple way to collect and share ideas among our team and with our clients. Since then, Dropmark has become an essential daily tool for thousands of companies, artists, writers, educators, and makers. The new Dropmark builds on this foundation, stressing every detail to make the collaborative process frictionless. Simple, yet powerful, Dropmark gets out of your way so you can focus on your craft.
This is your new creative dashboard — where ideas gather, discussions flow, and inspiration sparks. It's all your stuff in one simple, visual, private place.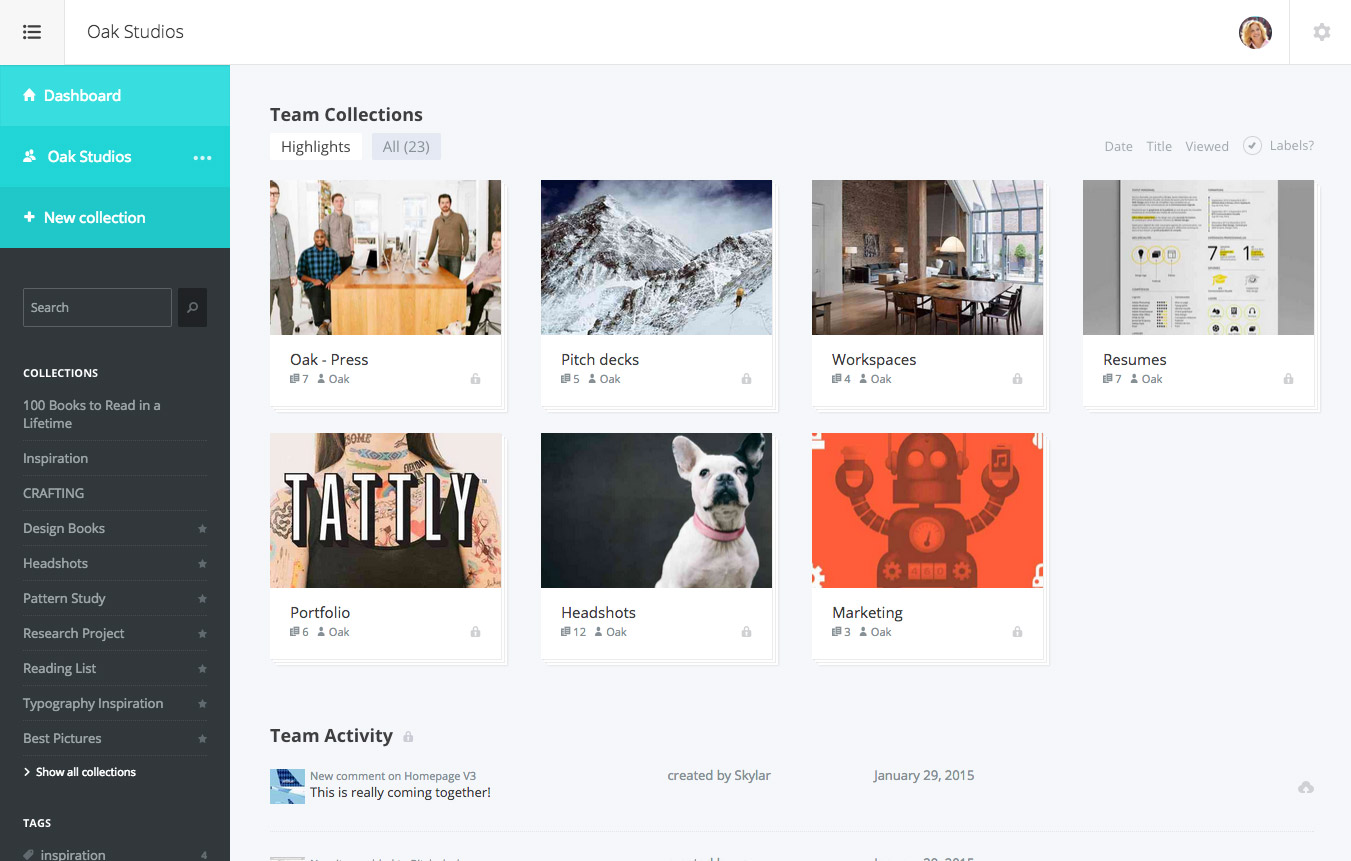 Here's a quick overview of what's new:
Teams
Bring your whole team together under one roof. Share collections with your group instantly, provide feedback, and get things done faster. Admins can set up members with user roles and consolidate billing, so everyone's happy.

Dashboard
Redesigned from the ground up, this is your new home for everything Dropmark. Catch up with what everyone's working on and talking about with your new activity feed.

Search
The new global search allows you to easily locate items, collections, and comments wherever they are. Search it all in one place.

Tags
Organize your items with tags to group content together by subject or categories, even across collections. Along with teams this has been one of our most requested features, and we think you're going to love it.

Highlighted collections
Star the collections you're working on to keep them front and center. They will appear first in your dashboard so you can focus on what's important.

Cover images
Upload thumbnail images to easily distinguish and personalize collections on your dashboard. As visual people, we can admit to judging by the cover.

New grids and list mode
In addition to our familiar grid view, we're excited to bring you 2 fresh new ways to visualize your collections: masonry flow and list view. Toggle with simple keyboard shortcuts, and choose the one that best represents your collection.

Improved thumbnails
To make use of those stylish new grids, we've enhanced thumbnails to be bigger, smarter, and better all around. Face detection puts an end to awkward cropping, and our favorite thing ever: animated GIF and scrolling websites previews on hover.

Markdown
Take notes and collect your thoughts in Dropmark with simple Markdown formatting. Ideas have never looked so **bold**.

Alternate emails
Link multiple email addresses to a single Dropmark account. Colleagues and friends no longer have to guess which email to invite you with.
That's just a start. There's much more under the hood, so stayed tuned to the blog over the next couple weeks for a deeper look into all the new features.
Special thank you to all our beta testers.
Visit your new Dashboard or sign up to get started.
We hope you like it! Follow @dropmark for more updates.