Dropmark can handle pretty much any type of media. Websites, photos, documents, text… But things get interesting when you add audio and video to the mix.
In this Using Dropmark we focus on audio, and show you how to create a collaborative playlist using Dropmark and SoundCloud that can be accessed from any browser.
To make it easy, you'll want to install the Dropmark Sidebar browser extension.  Log in and click 'My Account' to download the extension for your browser.
Once installed, Dropmarking a track from SoundCloud is as easy as dragging a song title to your sidebar.
Dropmark will embed the track and pull in the cover art for you.
Edit and rearrange your playlist however you like. Once you're happy with it, click play, and enjoy. Dropmark will automatically advance to the next track and play your entire mix.
Because Dropmark is all about collaboration, you can invite friends and colleagues to contribute and remix your playlist.
Watch the screencast above to learn more, and give our demo playlist a spin to try it out.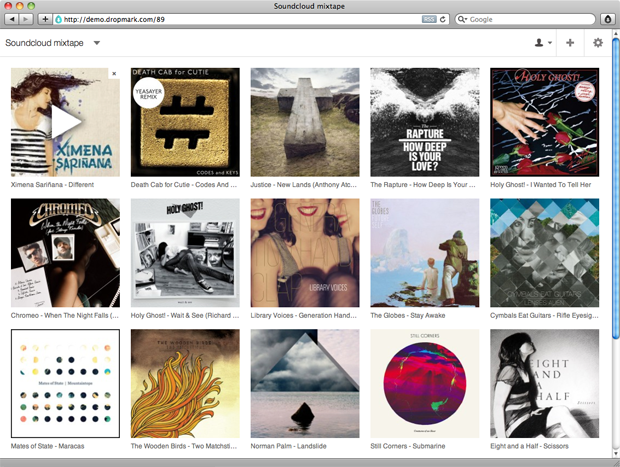 Have your own audio files?
Great! You can also drag in your own MP3s right from your desktop.
Dropmark will even grab the album artwork from its ID3 tags.
While Dropmark will support and play any audio format your browser understands, we recommend using MP3 for the best compatibility across devices.
Instant podcast
Dropmark collections are also podcast-friendly. Upload a few audio files and you instantly have a podcast that can be subscribed to using  iTunes.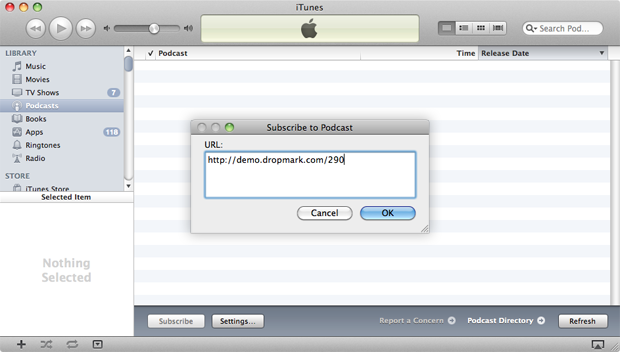 Just copy the URL of your collection and paste it in iTunes under Advanced > Subscribe to Podcast.
If your collection is set to private, iTunes will prompt you for your e-mail address and password in order to subscribe.
Up next: We'll show you how to create video playlists.
Using Dropmark is a series where we highlight different ways to use Dropmark. Tell us how you use Dropmark by e-mailing use@dropmark.com.