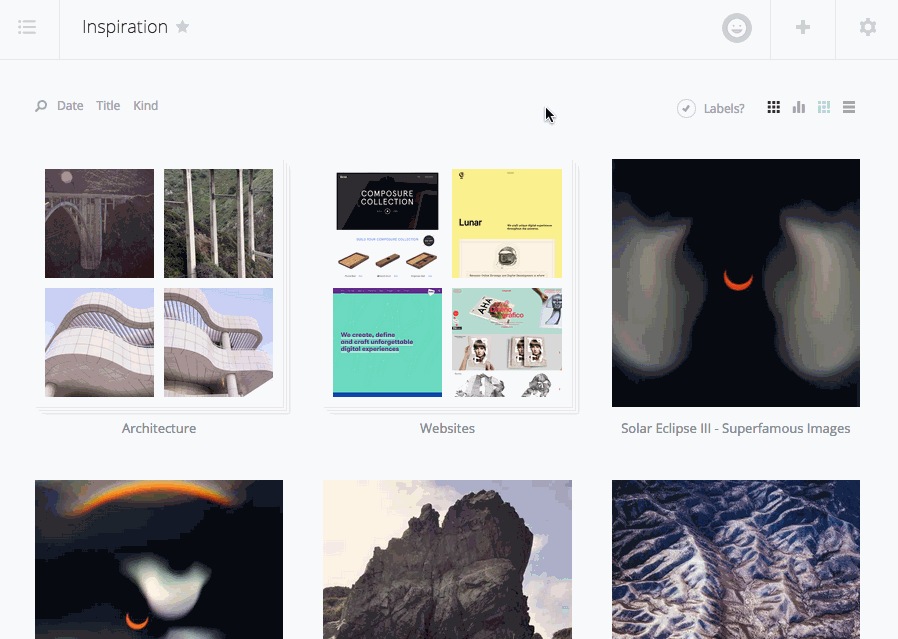 Within Dropmark there are several ways to organize and find content. You can organize your items into collections (e.g. "Inspiration", "Recipes", "Travel"). If you're a Pro subscriber or on a Team, you can tag individual items (e.g. "Basquiat", "vegetarian", "NYC") and then browse items across multiple collections with the same tag. You can even search all of your items by a particular keyword. Today we're introducing two more ways to organize your content: Bulk Actions and Stacks.
Manage multiple items at once
Bulk Actions is available to all users and allows you to perform actions on multiple items at once, all from your collection. These actions include moving items to a different collection, tagging, deleting, and stacking. To enter Bulk Action mode, simply hover over the item you want to select and click the check icon in the top left (or if you're in List mode, the far right).
Pro tip: If you select an item, then select another item while holding the shift key, you'll also select all items in between the two items.
Group your collection's items

Stacks are available to all Pro and Team subscribers and are the perfect way to keep your collection's items organized. A Stack is a group of items within a collection. To create a stack, select the items you want to stack using our new Bulk Action mode mentioned earlier, then click "Stack".
If you're a team of web designers working with a client, you could create a collection for the project and then create a stack for each iteration or website section. If you're a teacher, you could create a collection to share with your students and create a stack for each day's session. What are you going to use Stacks for? Let us know on Twitter.
Pro tip: You can now merge collections as a stack.